Simple smart bicycle equipment.
Make Your Bike Smarter
Designed by cyclists, suitable for cyclists; it is an all-in-one connected device that can breathe life into your bike. It can help you discover new routes through clear navigation signals. It protects your bicycle with a piercing anti-theft alarm. A completely redesigned all-around headlight illuminates the road for you. It can track and display your cycling indicators without having to press a button to synchronize with the fitness app you are already using. It keeps you in touch with the new, customizable new PeekDisplay ™. It looks, feels and works differently than any bicycle computer there.
We are obsessed with simplicity-we want cyclists to focus on cycling, not technology. This is why there is no open or close button on it. After riding the bicycle, it will greet you with the color animation of your choice, and automatically turn off after riding the bicycle.
Our patented, luminous halo gives you just what you need, at a glance. It lights up in the direction of your turns. When you're aiming for that fitness achievement, your progress fills up. When receiving an incoming call, it pulsates like a heartbeat – a loved one is calling. This is not another overly complex bike computer.  
Combining the Circle's Simplicity to the Pixel's Versatility
We have taken extra measures to ensure that it is suitable for your cycling life. We launched PeekDisplay ™, which is a complementary way to show you more content without distracting you. With its clear white pixels, it complements our iconic Halo, making each of its features better and more comprehensive, while still maintaining simplicity.
Customization is its core. You can select the bicycle indicator to display. Need help going to your destination? Choose the type of route you like. You can even define your own shortcuts: this is an easy way to trigger the most frequently used functions without having to take out your phone.
Always There for You
City cyclists know the pain of bicycle theft. Unlike other bicycle accessories, it always stays on the bike: it is firmly locked to the handlebar and only the unique HaloKey ™ can unlock it. This means that it can serve you at any time, provide guidance at any time, measure your performance and help you. When you leave, it will seamlessly trigger actions to trigger an alarm. No need to worry: your bike is protected against theft.
We have also improved version 2 of the anti-theft mounting bracket: it is stronger and wo n't get stuck. Your new HaloKey ™ is also thinner and
stronger.
We even make it easier to use on any type of bicycle. This also means that you can easily switch it from one bike to another. It also makes it easier to use it on roads, shared and rented bicycles.
Smartphone and traditional bike computer displays can be difficult to parse. We want you to focus on the road. Simply set your destination in the app, choose your favorite route type and put your phone in your pocket – you're good to go. The luminous halo will guide you, lighting up and gradually filling up in the direction of your incoming turn.
Unlike other bike GPS devices, there's no need to preload any maps or any of that non-sense: just grab your phone and you're good to go. We're using Google to make our maps and search the best out there: this means that you should be able to find any place you're looking for. For turn-by-turn directions, we're using HaloRoute™, our own routing system, custom made for cyclists. You can choose between the fastest, safest, flattest or our recommended route.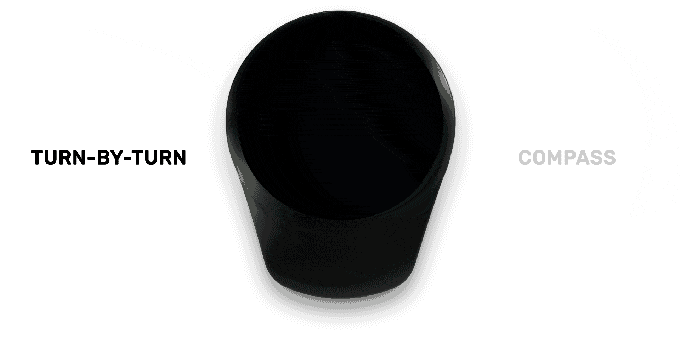 When only destinations are counted, the compass mode is used. Then, it will only point to your goal and turn green as you get closer. How you get there depends on you.
After a long day, do n't remember where you parked your bicycle? Our app will remind you where you left by "parking reminder".
When you're not around, it becomes the guardian of your bike. Any persistent meddling will trigger a 110 dB alarm: enough to fend off the most persistent thief.
Once you get back on the bike, it will detect the application running in the background of the phone. Then continue to disable the alert and pay your respects.
Lost your phone or it ran out of battery? Don't panic! Simply input your custom Tapcode (a combination of long and short taps, a bit like morse code) on the device to manually deactivate the alarm.
Cycling metrics such as speed, distance, calories, elevation, CO2 saved and time are tracked automatically as soon as you start pedalling. No need to press "start" or "stop", SmartHalo will save every ride. Feel like showing off? Simply push your rides to Strava (or Apple Health. Or Google Fit. Up to you!).
Using our new technology, the indicator can be displayed on your device in real time. Like all other aspects of it, you can decide what to view. Just swipe left or right to switch between selected metrics.
It'll turn on when you need it (we have a new light sensor onboard) and always shut off on its own when you're done riding. No more burnt batteries!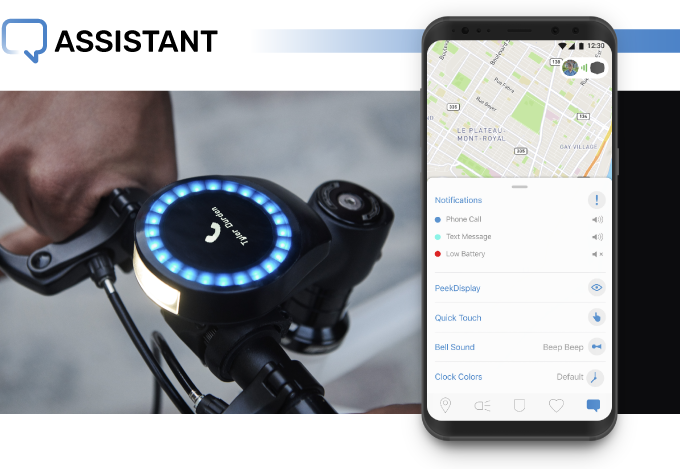 Assistant lets you stay connected to what matters. With PeekDisplay, you can see who's texting, calling or trying to reach you through Messenger, WhatsApp, WeChat or Slack. Answering or not is up to you. Want to bike peacefully? Easy, just turn notifications off.
Mother nature can call too: SmartHalo will warn you of incoming difficult weather conditions so you can pick up the pace.
You can use it for more operations without removing the phone. You can swipe through the predefined shortcuts set in the app. You can even assign a "quick touch" sequence to trigger these shortcuts. Do you want to go home? Assign the "Go to Home" shortcut to the three taps. Riding in the city? Short press the speaker. You can even use the shortcut to open the connected garage door.
A Redesigned App That Gets You Riding Quicker
We've redesigned the app from the ground up. Every feature is now grouped into cards, beautifully laid out on top of a map. Important functionalities are always reachable from your thumb to make it easier to navigate.